The advantages of Decofleur
Only for companies

Large range & graduated discount

Available directly from stock

Own stock & production

Create an account
Login
Search with at least 3 characters
Brand new dried flowers
Dried flowers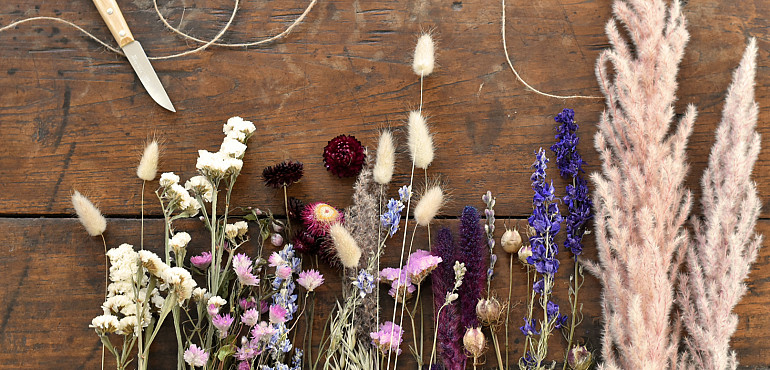 You can't open a home magazine or Instagram without getting around it: dried flowers are completely on-trend again. It's not just bloggers who love love love our dried flowers, dried flowers were also abundantly present at every recent Interior and Lifestyle trade fair in Paris and Koln. Recently we see a lot of looking back to the past in fashion, interior and flowers. It's no wonder dry flowers are gaining more fans every day: they fit perfectly in the current trend in which slow living and nostalgia are centralised.
Dried flowers are a wonderful alternative to fresh flowers, they last longer and moreover they are a lot more sustainable. Another advantage of dried flowers is, once nicely suited, you no longer have to worry about it. With little effort you bring serenity into your house. However dried flowers are interpreted in a different way they were in the 80s: Biedermeier bouquets are no longer in vogue, instead we opt for bell jars, wreaths, hanging bouquets and even hanging objects made of grasses. The pampas grass in all its simplicity is very popular at the moment: with its graceful shape, you easily bring nature into your home.
You can wasily find inspiration to get started with dried flowers yourself through Pinterest or Instagram. Check out our Instragram account to see which trendsetters in dried flowers we follow closely!
Bell jar
Necessities:
Bell jar

Self-drying clay

Dried flowers

Scissors
Make a circle of the clay, about 2 cm thick, kneed the clay before you use it. Next you create a still-life of dried flowers by placing the stems in the clay. Start in the centre of the clay and preferably start with the bigger stems, so you damage the flowers as little as possible.
Wreath
Necessities:
Metal wreath or wreath made of natural material

Iron wire or rope

Dried flowers

Scissors
Before you start, make a rough sketch or lay out the branches in a nice arrangement. This way you know where to attach the branches to the frame. If you choose to cover the wreath completely, choose a direction in which you will attach the flowers. If you prefer to make a swirl on the wreath, work from a central point. Start with the bigger stems, so that you damage the flowers as little as possible.
Inspiration
Have you got inspired by our step-by-step plan and created a beautiful green wall? Please send us a picture of your creation. We love to see what our customers create with our products. Need a little extra boost, take a look at our gallery with pictures of walls on our Pinterest.